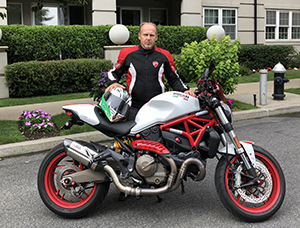 Riding a motorcycle has to be one of the best ways to view, experience and discover what the world around us has to offer. On a motorcycle, you have the freedom to ride where and when you want.We will teach you the skills you need to pass your Class M road test, and the techniques you will need for everyday safe riding.
Riding a bike was always your dream?
You have all the toys and now want the freedom of two wheels?
Traffic and parking has became unbearable?
Gas prices are on the rise?
Insurance cost is through the roof?
Or you just want to be cool and get all the attention?
So get a motorcycle or a scooter! We will teach you the skills necessary for safe riding, and we will help you to obtain a NYS class "M" License.
First Step:
Study the NY State Motorcycle Operator's Manual (MV-21MC) to prepare for the written test)
Sample Tests are Here:
Then, please go to the DMV and take the written exam for motorcycles.
When you pass that exam you will be issued the learner's permit.
Next, please contact us for your lessons which will prepare you for the road test.
Notes:
-if the speedometer of your bike or scooter has a maximum speed over 30mph, you need a motorcycle license for it.
-if you are applying for a motorcycle permit but you don't have a license for a car yet, you must attend the 5-Hour Class prior to a road test. We offer that class as well.
For Our Novice Rider Students:
You can expect one-on-one coaching starting with the basics. We'll help you become familiar with the motorcycle and its controls, discuss and demonstrate what should be done prior to riding, and then begin the riding process. Your first lesson will hopefully result in your first straight-line ride. Your second lesson will build on what you learned in your first lesson. We'll work on starting, stopping, turning and shifting. Subsequent lessons will deal with high and low speed turns, accident avoidance maneuvers, specific exercises needed for the road test and will culminate in a real-world ride on local streets. Our goal is to get your comfortable and confident for both road test and beyond.
For Experienced Riders:
If you can confidently start, stop, shift and turn, we will assess your skills to help you become a better and safer rider and to prepare you for the DMV road test. The training will emphasize on improving cornering ability, crash avoidance techniques, street skills and on-road riding.
We offer one-on-one training as opposed to learning with a group of other students, so you can learn at your own pace. Training is conducted both on a closed course and the street in order to develop the best skills for real life riding. We will show you how to do the circles and "figure 8" for the first portion of the test because they must be done a certain way. We will also show and explain to you the other techniques necessary to pass the road test.
Please contact us for the prices.