Here at Sky Light Driving School we offer an array of services for any driver on the road. Use our convenient scheduling form to book online and process your payment.Our unique feature is that we use only late model luxury vehicles (BMW and Lexus) with dual controls. We want you to start learning to drive on the same vehicles that you might want to own.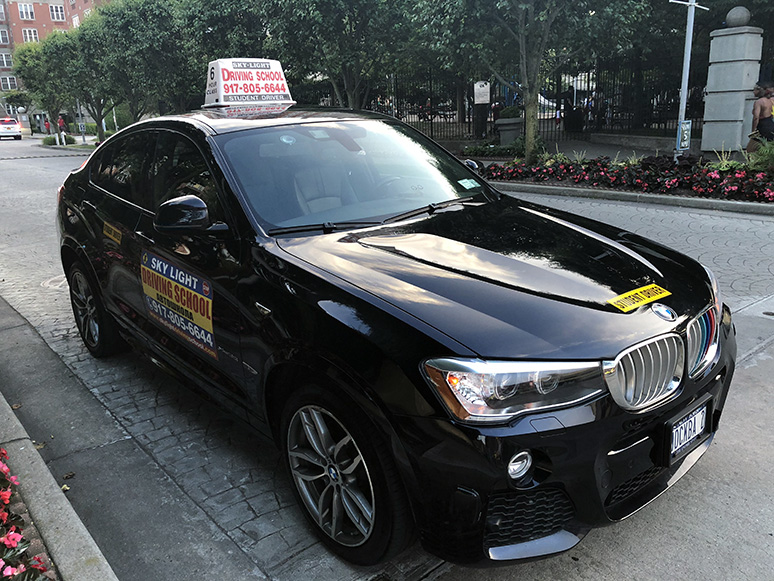 No matter what level of driving you are at, we offer a lesson to suit you. If you are a beginner driver, have little experience, or feel uneasy behind the wheel, we will cater to your needs with patience and professionalism. We also offer lessons for more experienced drivers, such as those who need to prepare for their road test or those who have experience driving in another country.
Our lessons are offered in a variety of different approaches and are custom-tailored to your needs. We offer:
One-on-one Driving Lessons (60 and 90 minutes long)
Night Driving Lessons
Highway Driving Lessons
Heavy Traffic Driving Lessons
Bad Weather Driving Lessons (Rain, Snow, Fog)
Motorcycle Lessons
Manual Transmission Lessons
The Pre-Licensing Course (5-Hour Class) is mandatory for all drivers obtaining a Driver License or Junior Driver License.
Additionally, you may not schedule a road test appointment without this pre-licensing course.
With the 6-Hour Class you may be eligible for a reduction of up to 4 points on your driving record and a minimum 10% reduction on your automobile or motorcycle insurance premiums. This course is accepted by TLC.
With our road test services in Brooklyn, Staten Island, Queens, The Bronx and Long Island we will guide you through every step of the road test process. We will happily schedule your appointment for you, help you master required driving techniques in our lessons, and take you to your appointment in our car with dual controls—the very same car that you will be practicing in.
We offer multiple convenient deals to save you money, please see our PACKAGES page.
A great way to make a memorable gift for your loved one!