Our lessons offer a practical experience of driving on the streets of New York and help prepare you for the road test. The lessons are for all drivers, new or experienced, who want to learn how to drive from step one or master techniques that the road test requires.
For Inexperienced Drivers:
For those learning to drive from step one, our lessons offer a comprehensive walkthrough of basic vehicle controls, important safety information, driving techniques and road signs and markings before getting behind the wheel. While driving, you can expect professional tips and guidance from our licensed instructors. We will ensure that you learn to drive without fear and improve your confidence with every lesson you take.
For Experienced Drivers:
Drivers with some or extensive experience in the US or another country still need to master certain techniques required to pass the NYS road test. We will teach you all the skills that are neccessary for that.
During our lessons which prepare drivers for the road test you can expect to master:
Left & Right Turns, Smooth Steering
Smooth Acceleration & Braking
Using Your Signals Correctly, Communicating With Fellow Drivers
Checking Your Mirrors & Blind Spots, Observation
Shifting Gear Properly
Traveling at an Appropriate Speed & Following Distance
Obeying Traffic Signs, Signals and Markings
Stopping Position
Lane Position and Lane Selection
Anticipation & Reaction Time
Joining the Traffic and Pulling Over
Performing the Parallel Parking
Performing the 3-point Turn (K-Turn or Broken U-Turn)
Negotiating the Intersections with Traffic Lights and Stop Signs
We also offer a wide range of custom-tailored lessons designed specifically to meet your needs (the rates are upon request):
Highway Driving – $85 for 60 min.
Night Time Driving
Driving in Heavy Traffic
Refresher Lessons (for those who lack the behind-the-wheel experience)
Manual Transmission Lessons
Motorcycle Riding Lessons
Driving Lesson
Every day 9am-7pm, intensive driving, one-on-one instructions, special attention to female, teenager and first-time drivers. We speak English and Russian. We pick you up and drop you off at the address you provide in South Brooklyn
60 minutes – $70 Book Now Most Popular!
90 minutes – $100 Book Now
Classes
5-hour class (mandatory pre-licensing course)—$55, offered via ZOOM weekly. Please inquire with us about the next class date and time!
6-hour class, approved by TLC (Defensive Driving Course, gives you 10% discount on car insurance for 3 years and up to 4 points reduction from your driving record)—$65, offered weekly.
Road Test
Includes the use of our vehicle, final instructions (specific to the chosen test site) and the round trip transportation to and from test site.
in Brooklyn – $200
in Staten Island – $215
In Queens, the Bronx or Long Island – $350
All test sites are different. Some sites are easier to take the test at. So if you want us to set the appointment for you, please add:
Regular road test appointment scheduling, usual waiting time 6-8 weeks – $25
Expedited road test appointment scheduling, usual waiting time within 10 days – $100
Books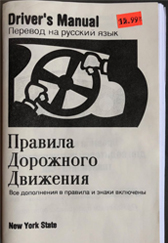 NYS Driver's Manual book in Russian
$12+$3 (Shipping)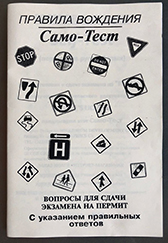 Q/A for the NYS Permit Test in Russian
($10+$3 Shipping)
(Prices listed above are for cash / check payments. We also accept credit cards and Paypal, however a 3% processing fee will be added to that. Road test appointment waiting times are based on a normal work volume and are not guaranteed)